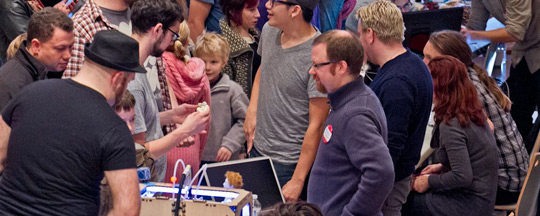 MINI MAKER FAIRE 2013
August 31st & September 1st 2013
at the Canada Science and Technology Museum
1867 St Laurent Blvd, Ottawa, ON
10AM – 5PM
Free!
The rise of the maker (or is it the revival of making) is an exciting global movement. Not content with a passive relationship to technology, many people are unboxing the mystery of the tools around them. From simple craft projects to complicated interactive tools, makers are playful, curious and creative and the Mini-Maker Faire showcases some of the best projects around! On Labour Day weekend, Artengine will host its third Mini Maker Faire in partnership with the Canadian Science and Technology Museum.
This family friendly event will bring together enthusiasts across the spectrum of technology, from high to low. Robot makers, 3D printer enthusiasts, engineers, and aviation specialists will join knitters, woodworkers, and solderers to put on an expo that will inspire, teach and entertain. A Mini Maker Faire brings together families and individuals who celebrate arts, crafts, engineering, food, music, sustainability, and science and those who embrace the DIY spirit. At Mini Maker Faire, the focus is on the process of making – not just the finished product.
The real story here is the curiosity, vibrancy, and passion of the Makers themselves, the people who comprise the rapidly emerging DIY category. Scientists, homemakers, students, automotive enthusiasts, software developers, musicians, crafters of all stripes: individuals and communities of people drawn together by a common delight in the magic of tinkering, hacking, creating, and reusing materials and technologies. Above all the Maker Faire encourages people of all ages to experience the joy of making stuff.
For more information visit www.makerfaireottawa.com