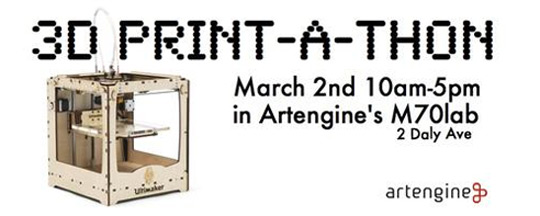 3D PRINT-A-THON
March 2nd 2013, 10am-5pm
in Artengine's M70Lab, 2 Daly Ave.

Celebrate the launch of our 2 new 3D printers, THE ULTIMAKERS, and learn about 3D printing in Ottawa and the makers behind it. Talk to some of the city's foremost 3D printers at each of their booths and check out their machines and designs.
To learn more about this exciting new technology join us from 10am-5pm on Saturday March 2nd and be inspired!
All donations will go to supplies needed to get the 3D printer working and printing.
Ultimaker
Open Source
3D printing
The Ultimaker has won 3 prizes 'Most Accurate', 'Fastest' and 'Best Open Hardware' in the Make:magazine November 2012 edition.