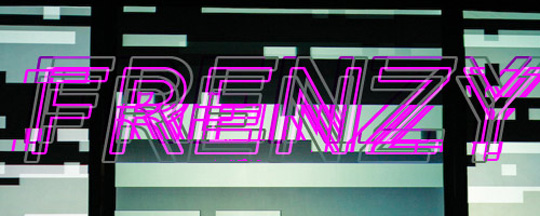 Frenzy
After 6 amazing years the legendary Disorganized party came to a close on January 1st. Filling the void is a new party that will carry on the sensory overload people have come to expect from the first Friday of every month!
FRENZY began Friday February 5th as a collaboration between Straight Goods, Le Champion du Monde and Artengine. Straight Goods will be providing the music programming and Le Champion du Monde (superstar photographer and long time Artengine collaborator Paul Galipeau) will bring his wild and entertaining interactive photobooth. Artengine will work with a variety of visual artists to bring you world premiere performances, interactive installations and all around lucious eye candy. It's really the kind of audio-visual party you should expect at the dawn of a new decade.
Frenzy - The Monthly (1st Friday of the month)
Babylon
317 Bank Street
Friday February 5th 11PM-2:30AM
Go to Straight Goods Facebook page for regular updates on the music programming.
Check out our list of visual artist past, present and future:
June - TripleHead2go Special - BearWitness and Ryan Stec Tag Team

May - Interactive projection by Anthony Scavarelli

April - Zara Ansar

March - BearWitness (Electric Pow Wow, Grind)

February - VJ Daisy
Check here for more info on DJ resident and Canadian Thre3Style Champion
DRASTIK (Stylusts, Tremendous Records, Straight Goods)
www.myspace.com/djdrastik
Party host IGGY SMALLS (Straight Goods) can be found here:
www.myspace.com/igz24
Photobooth by LE CHAMPION DU MONDE
lechampiondumonde.com